Wellpride: Supporting the Horses of a Heroic Quest
"Thanks to Wellpride, our horses can comfortably and happily continue this good work and keep seeing children for more years to come," Rose Feldman of Quest Therapeutic Services, Inc. told Dr. Anne-Marie Chalmers, who co-founded Wellpride in 2003 with Dr. Bo Martinsen.
Quest Therapeutic Services of West Chester, PA is the only full-time hippotherapy outpatient center serving the Delaware Valley (DE, NJ, PA). Wellpride is also #1 in the hearts of those who work with the hooved heroes of Quest's riding programs. Heroes like Xitana, Phoebe, and Mr. Chuckles are making a difference in the lives of young people because Wellpride made a difference in theirs. Rose shares their stories:
The Stories of Xitana, Phoebe & Mr. Chuckles
Xitana (Galician for 'gypsy') is an 18 year-old Gypsy Vanner mare that came to Quest two years ago with health issues including chronic progressive lymphedema (CPL) and a severe case of heaves.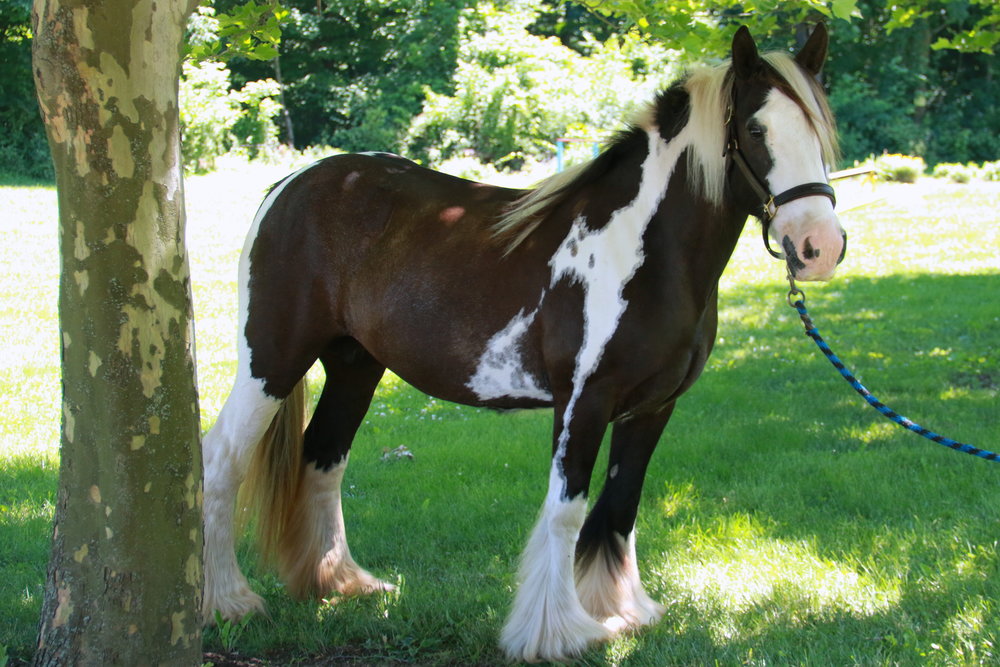 "The only way we could control her symptoms was with steroids," Rose said. "After almost a year (under veterinary supervision) trying to wean her off steroids and seeing the negative effects of their long-term use, I found a study showing how fish oil greatly reduces the symptoms of heaves. That's when we reached out to Wellpride."
Heaves, a form of severe equine asthma, is exacerbated during spring/summer as warm weather releases pollens and mold spores (aeroallergens) that obstruct airflow and trigger labored breathing and coughing.
After putting Xitana on Wellpride fish oil for horses for 30 days, Rose again tried weaning her off the steroids. "This time, she showed no signs of breathing trouble. It was like a miracle! She has been on Wellpride for over a year and I only had to give her a low dose of steroids once (last fall). Her CPL hasn't flared up at all."
Helping the gentle piebald Gypsy – who has served more than 400 children in therapy sessions – meant she could return to helping others.
"We like to pair her with children that need help self-regulating and calming because she exudes calmness, and her self-carriage is amazing for what we do," said Rose. "We are grateful to Wellpride for helping us get Xitana to a healthier state so she can continue her good work."
Wellpride also addressed heaves in another Quest hero, a 14 year-old Haflinger mare named Phoebe.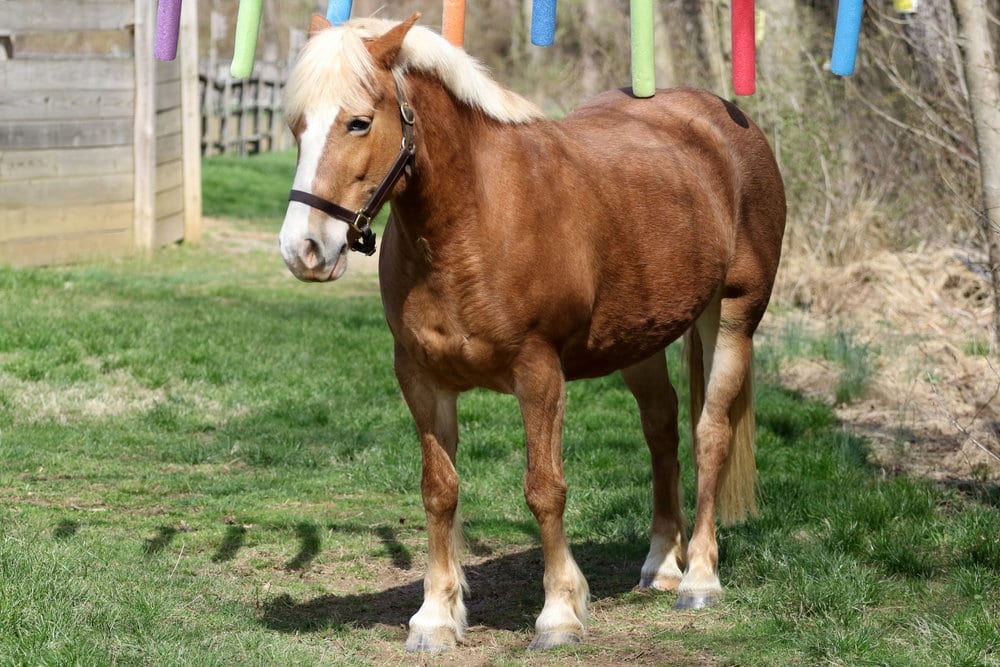 "She is a true work horse," Rose said. "Phoebe takes the heaviest caseload and many, many clients with great challenges to overcome."
The mare has endured a relentless cycle of allergies and skin issues, and last spring, started showing signs of heaves. "After our veterinarian examined her he said, since Xitana was doing so well, he would put Phoebe on the same fish oil. So we did and her coughing subsided within weeks and has not returned. It was also the first summer she didn't suffer from hives."
Wellpride also helped another stalwart servant of children with special needs: Mr. Chuckles.
"He is a saint," Rose said of the chestnut Quarter Horse gelding, 24, who has carpal tunnel in his knees and arthritis throughout his body. "When he arrived three years ago, we put him on arthritis medication and it increased the 'pep in his step.' But around Spring 2019, I noticed the medication wasn't creating the youthful-looking horse it once had.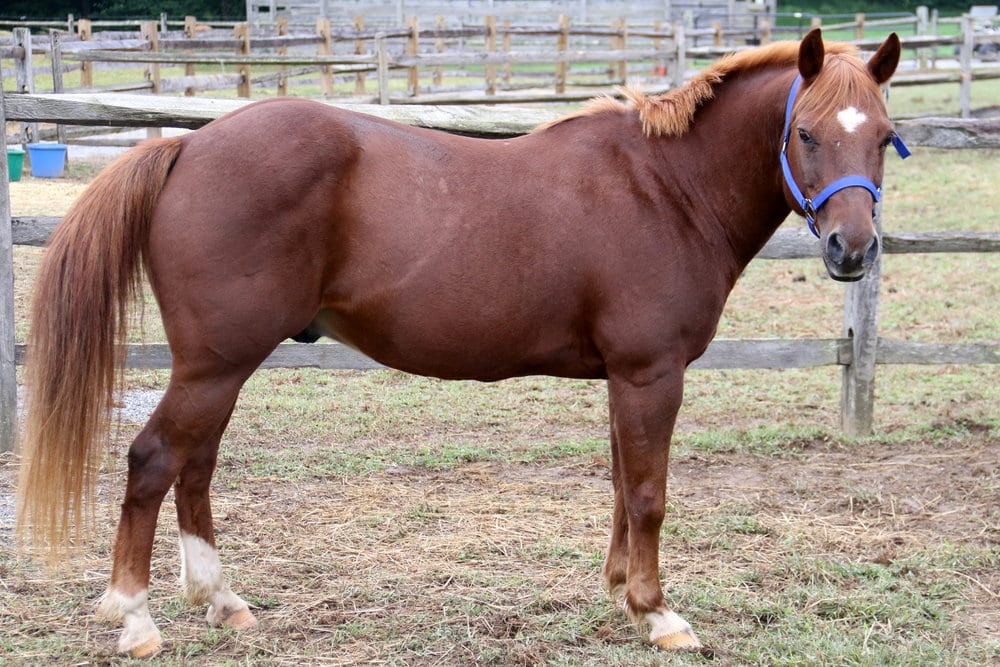 "I decided to try the fish oil, and what a difference it made! He sees about a dozen a week and he's incredibly loved by the therapists and children. Now he visibly travels like a younger horse again. Even our farrier said his flexibility seemed better. Thanks to Wellpride, we feel confident that Mr. Chuckles will comfortably and happily keep seeing the children who love him as much as he loves them!"
Wellpride Is the Game Changer
When Quest Therapeutic Services was founded in 1996 by mom and equestrian Sandy McCloskey, it served six children once a week. Today it has evolved into a full-time, not-for-profit pediatric therapy program serving over 125 children per week. Its staff of experienced therapists, instructors, trainers, and volunteers provide family-centered and evidence-based therapeutic interventions for children and young adults with diagnoses such as Cerebral Palsy, Autism, Down Syndrome, Low Muscle Tone, Developmental Delay, Muscular Dystrophy, Speech Delay, Spina Bifida, Genetic Syndromes, Cystic Fibrosis, and Attention Deficit Disorders/Hyperactivity.
Managing the wellbeing of such horses is vitally important. "We have always taken precautionary steps in our horse management. We keep our barn as dust-free as possible and well ventilated. The horses get as much turn out as possible and get appropriate diets. We soak Xitana's hay. We control flies with a feed-through. There was nothing else, as far as changing our horses' environment went, that vets could recommend to make a difference."
"Wellpride was the game-changer," Rose says. "I honestly don't think Xitana would be alive today if she were still on steroids. I don't think that she could have handled any more drugs in her system. Without the fish oil, I don't know that she would be alive, and she certainly wouldn't be doing this great work that her temperament, and beautiful movement, make her perfect for doing."
And when a volunteer said Mr. Chuckles looked like he was doing much better, Rose replied, "Yes! He's on fish oil again and feeling great."
"There are a lot of products out there and a lot of good ones," Rose told Dr. Chalmers, "but Wellpride really stands out. Keeping horses healthy and happy in this work is difficult, so a million thanks to you and your company. You make our horses' jobs a little bit easier and that extends to our therapists having the options and tools they need, to help our kids reach their functional goals."
"As a mother who experienced the benefits of therapeutic riding for her own children, I am happy that Wellpride can support Quest's important mission," Dr. Chalmers replied. "Given our family's story, it brings me tremendous joy to make a difference for families with special needs."