From Rescue to Recovery: Charger's Story
When she first saw Charger, Janis thought this rescue horse might be too far gone to save. But thanks to an incredible team and a lot of hard work, Charger is making a remarkable recovery. His owner, Janis, shares their moving story in this letter to Wellpride.

A Letter from Janis
On December 5, 2016, I had to put down my beautiful friend, my blue roan mare named Lady. My heart broke.
Immediately, I started getting calls about horses: "I have one for you, Jan." Or, "I have a friend who can't afford to keep her horse any more." I couldn't face another commitment like that, another broken heart. Finally, I told everyone, "Don't contact me about horses any longer. I can't take it."
Then at the beginning of February, my friend Cathy Padgett, who runs Whippoorwill Horse Rescue in Turtletown, TN, sent me a photo of an emaciated, beaten-up chestnut gelding, with only these words: "A sad boy."
He was ugly. He looked lame; his eyes were puffy and hollow at the same time. His backbone looked like it had separated from the rest of his rib cage because he was so thin. I don't know what I was thinking — I was far away in Venice, FL at the time. But I answered her: "Tell me more."
She said he was a Tennessee Walking Horse around 16 years old. I like all breeds. I told her to go take a look. She did. When I heard her evaluation (perhaps rotated coffin bone; perhaps club foot…he hadn't had his feet done for months and it was difficult to see), we both decided he was too far gone. Sometimes you have to pass on a hopeless case in order to save another. And I had never been in the horse rescue arena. I was used to younger, healthier, show-ready jumpers. He was so hairy, his legs looked all one-size from the knees down. There wasn't any shape. He was filthy.
But he had this "look." Neither Cathy nor I slept well that night, and the next morning, our messages passed each other. Mine said, "Go get him." Hers said, "We need to get him here."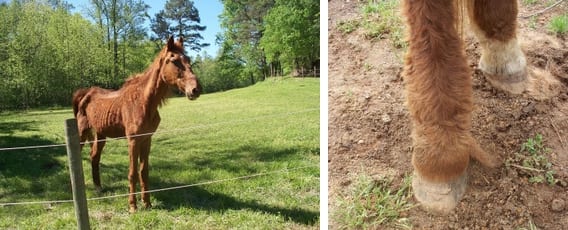 Somehow she got some paperwork on him from the people who owned him. They had only had him for about 6 weeks, thinking they could "feed him up," but he was already shutting down and in a pasture with fat horses who pushed him away from food. It was winter. There was little grass to sustain him; he was critical.
He wasn't a Walker; he was an American Saddlebred named Charger: There was a "for sale" photo of him in a show arena when he was 12. There was the name of a former owner, three owners ago, and Cathy gave her a call. She was mortified and heartbroken to see what had happened to her beautiful horse. She was sure she had placed him in good hands. But life happens, and it happened badly to Charger. This previous owner jumped in to help, is part of Charger's recovery team, and drives more than 100 miles one way to see him at least once a month.
Cathy kept Charger alive, sitting next to him while he ate so others wouldn't push him away. But he didn't really attack his grain, or grass, the way we would have liked. He was on the verge of simply giving up. Still, she kept at it. He had the best of veterinary care, x-rays, vaccinations, dental work, hoof care. And yet it was all being done to a skeleton — a very sweet skeleton who to this day has not shown one bad habit, and never had one according to his former owner.
So on May 7th, after I got to North Carolina from Florida, Charger came to our farm along with a buddy of his from Whippoorwill. I was afraid he wouldn't be able to stand in the trailer for the 32 mile trip, but he made it, all 690 pounds of him.

The change in him has been unbelievable. One of the most important ingredients in his recovery has been Wellpride fish oil. I know he gets it because I hand feed it to him with a mix of Manna Pro's Senior Weight Gain and Farrier's Formula Double Strength Plus Joint, and one tasty tablespoon of wheat germ.
Charger's first blood tests at the Rescue showed high protein levels. Now he loves grass, eats heartily, gets proper nutrition, and his levels are perfect. But it took some doing, feeding by hand, to get him to WANT to eat again. He has a heart murmur, but at the last check, Doc couldn't find it. "His heart is getting stronger," he said; and it is.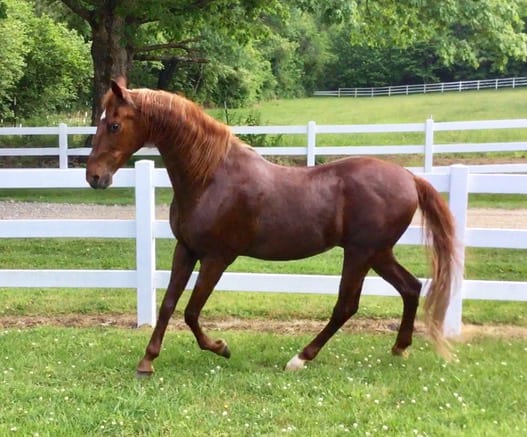 Charger prances around in the pasture now, just like the Saddlebred that he is. He's a tall boy, close to 16.2. When he sees me bring out his noon snack of soaked beet pulp and rehydrated chopped hay, he comes a running. Yum! Can horses smile? He certainly does! What a beautiful sight to see that big chestnut, flowing mane and long tail, cantering toward me.
Thank you, Wellpride, for your important role in Charger's amazing recovery, in the improvement in his skin and coat, and most especially in his heart. He is on a careful exercise program now to strengthen that muscle, but we know it will improve because Charger most definitely "has heart."
Janis Londraville
The Farm
Murphy NC