A Holiday Gift Guide for Horse People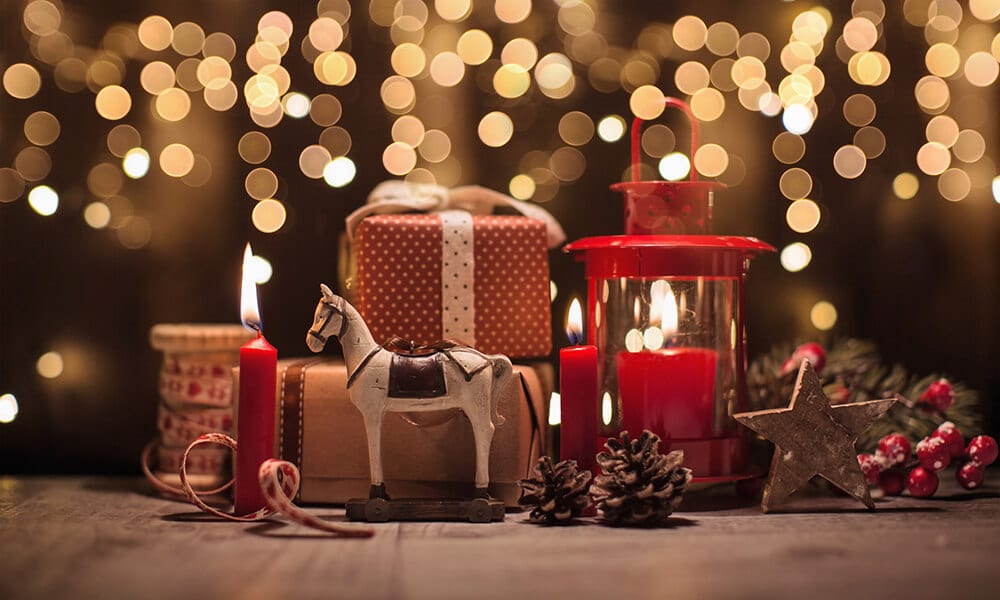 With the holidays approaching, I have had people asking me what I want, and I've asked others the same. How I answer that question depends on how well I know the person. Often, it just comes out "I don't know" or "I'm sure I'd love whatever you get." But I know those are frustrating answers. With my mom, the answers were fairly easy, including a new pair of body clippers. But my friends don't spend that much, nor do I need the life supply of curry combs that often fall into their price range, if they do end up wandering into a tack shop.
So, for those of you shopping for horsey friends, I asked around and got perspectives from both western and english riders. Here are a few ideas, broken up by price range.
Small Budget ($0-25)
1. Help. Whether your horsey gift-receiver boards their horses or keeps them at home, the work is rarely done. Ask them what's stressing them around the barn and make a coupon book offering to help out within your ability. For non-horsey people, you could clean a few stalls, help wash blankets, replace a light bulb in the tack room, or watch the kids so they can go ride. For horsey people, you could do the above or offer to farm-sit for a weekend getaway, exercise ride, or groom at a show. It's free, but thoughtful, especially if you tailor it to the person.
2. Horse Treats. Before you go with this one, make sure the gift receiver's equine partner is allowed to have these. For most of us though, treats fit into the equation somewhere.
3. Replacement Products. For me, it's usually Quick Silver (my paint's white spots never stay white) — and fly spray. Always fly spray. Find out what they run out of all the time and give them a backup supply.
Middle of the Road ($25-75)
1. Clothing. For those of us who are at the barn daily or nearly that, even the best-made barn clothes can end up torn, frayed and filthy within a short amount of time. Whether it's a favorite brand of riding pants, or an extra fleece pullover for winter, most of us have something on our closet wishlist.
2. Gift Card. This item can clearly fit into any of the budget categories. But if you have an idea in mind of what you'd like to spend on a friend, a gift certificate to a favorite tack shop can help them get exactly what they want. Trust me; they'll still think of you when they use it, even if you weren't the one to place the order.
3. Barn Supplies. All those things we have sitting around the barn cost money, too. Everything from stall guards to muck bucket carts get daily use and often are not the first things on our list when we think of "barn stuff." For my birthday, I got a rolling hay bale bag. That was probably my favorite present. Think of the things that could make daily life easier. Freezing water? They might love heated buckets or a tank heater. Jumping chairs? Jump building blocks and PVC pipe can make better, safer jumps.
Up There Budget ($75+)
1. Horse Clothing. Blankets, coolers, boots, wraps… the list is longer than it takes horses to trash these items, be it stepping on them, catching them on trees or intentionally ripping them off. The result is we often have things to fix or replace.
2. Tack. Depending on just how high your budget goes, this could range from replacing their cracked stirrup leathers to buying a new saddle. Regardless, the smell of new leather can be addicting.
3. Show Entry. If you want to show your overall support and your gift recipient has competitive aspirations, offering to pay a show entry is a thoughtful way to do this, and adds one more opportunity for success in the coming year.
As I asked around, people had very specific items on their lists. The goal of this guide was to give you some general categories to go off of, as every rider, horse, and discipline has different needs. The biggest lesson here is to ask more questions while on your gift search. Instead of "what do you want?" consider asking "what's the hardest thing around the barn?" or "have you broken any equipment lately?"
As you shop, don't be afraid to think outside the box. Tacktrader.com offers classifieds for horse-related items. Websites like Ebay and Amazon often have discount items of equal brand name and quality to the more traditional tack sale sites. And don't forget to monitor the sales, like the 12 Days of Christmas sale at Dover Saddlery.
And most importantly, remember that gifts related to our horse interests mean a lot, so you can't go wrong as long as there is clear thought behind the gift.