This Rescue Horse Owes His Life to Omega-3s, Says His Owner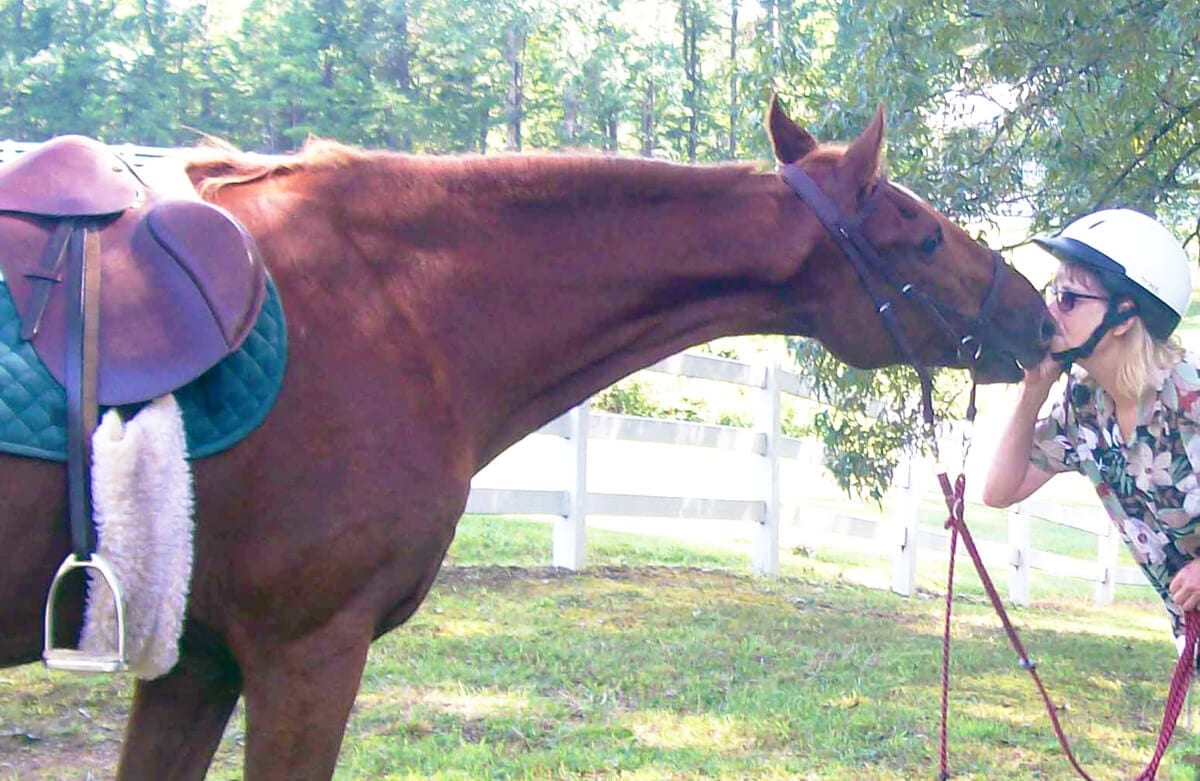 "My veterinarian didn't think we could save him. Nothing was working right. Not his kidneys, not his liver function. His heart rate was about 20 bpm. When I first saw Charger in the non-flesh (because he had none), I was scared. I had seen many horses, but none so emaciated."
That was horsewoman (and some might say, angel) Janis Londraville's first impression of the chestnut American Saddlebred-type gelding that was originally seized in 2011 from Long County, GA by the State of Georgia. He was 16.1 hands high and weighed just 690 pounds by the time Janis brought him home in May 2017 to rest and recover from the kind of long and tragic journey no horse deserves to make.
"He had been seized, along with several other horses, from Long County and sent to Pulaski Women's Prison, where the ladies there brought him back to life, renamed him PL Charger (PL for Pulaski) and got him ready for resale," Janis begins. He was then auctioned in May 2012 and bought by "a caring fellow, who later lost his home in the economic downturn and gave Charger away to a nice lady who, though she loved him, did not have the financial means to care for him."
Charger's quality of life and fortune continued to spiral downward, Janis recounts. The woman who loved him but could not afford his upkeep thought she had found a wonderful home for him in Turtletown, Tennessee (she lived near Atlanta), but it turned out that Charger's new owners lost interest in him and did nothing as the quality of his pasture deteriorated.
"He needed dental work. He was – and is — very submissive," she continued. Two other pasture mates took advantage of Charger's passive demeanor and ate all the food. Because of his teeth, she says, Charger couldn't eat his hay and there was little grass left in the over-grazed pasture he shared with the more dominant horses.
Janis, too, had recently been through her own fair share of misery. "My mare had recently died, put down because of blindness, and I was heartbroken. As Charger's condition worsened and the prospect of his dying from starvation and neglect grew likely, yet another new owner called Whippoorwill Horse Rescue in Turtletown. She no longer wanted the horse; he was too far gone to fix."
Knowing Janis had a hole in her heart left by the loss of her own mare, the rescue sent her a photo, which simply said, "A sad boy."
Janis just as simply replied. "Get him."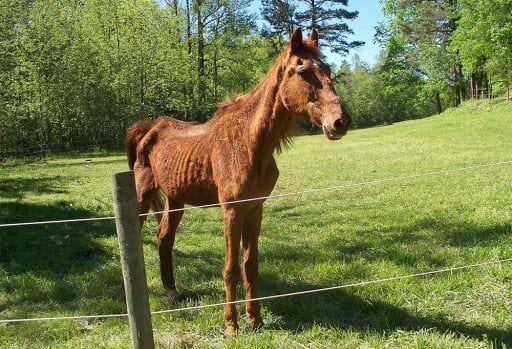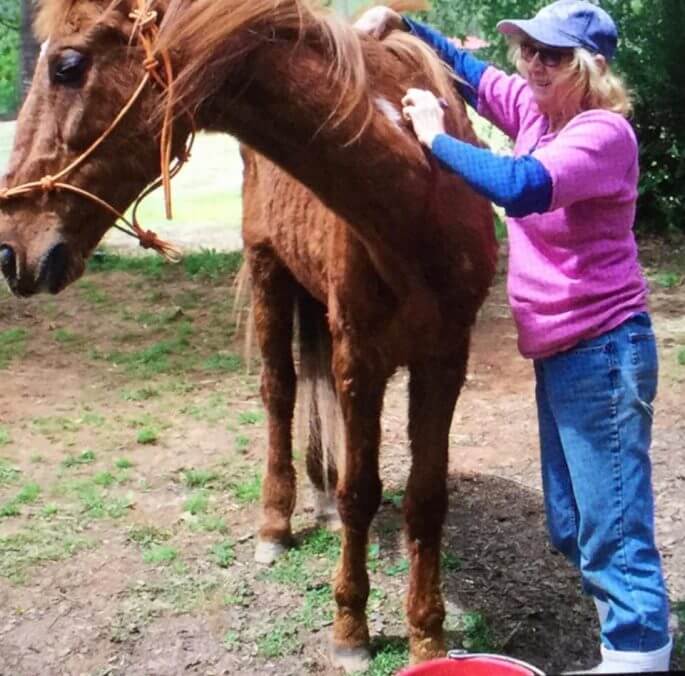 When she brought Charger home to her farm after his initial veterinary exam, he was still very sick, she said, "But so sweet, ears always up, wanting to live. We also brought along a little mare that had befriended him at rescue, named Sable. She was in somewhat better recovery than he was, but needed grass and couldn't eat hay. We had grass."
Not that the prospect of fighting for the life of a walking skeleton wasn't intimidating. Janis confessed that she had considered backing out. His condition was so fragile that Janis could barely groom him without his skin sloughing off. "But my friend, who helps me at the farm, encouraged me and said we could do it."
That "we" became a team that included Wellpride omega-3 for horses: "I had met Dr. Anne Marie Chalmers (chairman and co-founder of Wellpride) in Venice, Florida and, in learning about the benefits of omega-3 fatty acids in recovery, digestion, and joint and coat health, immediately started Charger on Wellpride."
"He started recovering quickly," Janis said. "His 20 bpm heart rate turned into a normal heart rate within a few months, no whooshing, no sign of murmurs. That's where Wellpride really counted, I think: The heart."
The woman from Atlanta who previously owned and loved Charger heard about his plight and drove over 100 miles to visit him at Janis's farm. "She was mortified and stepped up to help with costs, grooming, brushes, everything. She pays for his Farrier's Formula Double Strength Plus Joint from Life Data Labs. She adores Charger, and we are happy to have her back in his life when she can manage the trip here."
Today, thanks to Wellpride and the woman who refused to give up on him, Charger, now 20 years old, is safe, sound, and happy, as is his little mare friend, Sable. "At 27, Sable is trucking along, too!" Janis is happy to report. "We do the best with dental care for them. It's expensive, but people are kind. Our dental vet, Dr. Diane Febles, comes directly to the farm so that these two horses don't ever have to move again."
Like a fairy tale come true, Janis promises that Charger and Sable will live out their lives at her farm. Happily ever after, thanks to good people, and good health provided in part by Wellpride.
To learn more about Charger's remarkable recovery, and that of other horses, visit the Wellpride Success Stories page:https://www.wellpride.com/wellpride-success-stories