Kathryn and Calabrae, Part III: Dressage Showing Tips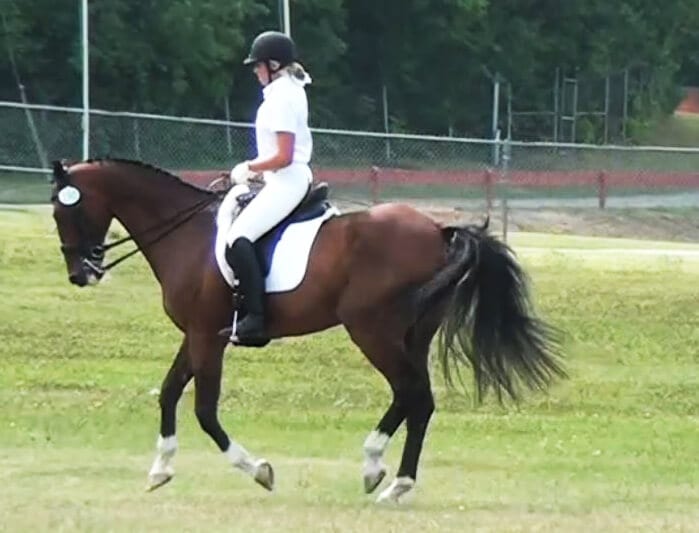 Since our last edition, Calabrae has really improved with his rehabbing. While his workload is still small, he's handling the weekly increase in exercise wonderfully. In fact, our biggest challenge – or perhaps I should say my biggest challenge – is to keep him walking calmly! He is SO ready to work that he pretty much wipes the saddle with me! He's also graduating to a new paddock situation that we're thinking will him make quite happy, and will (hopefully) also make my job a little easier. Calabrae is feelin' good and knows spring is in the air, which brings me to the focus of this edition… showing!
With show season upon us, riders are setting new goals and busily making plans. That said, even the best laid plans don't always come to fruition, especially in the equine field! I had plans to show this June and hopefully finish my last 3rd Level score for my USDF Bronze Medal; however, the horse I was going to compete with unfortunately injured herself. Nevertheless, despite this disappointing blow, positive developments may be on the horizon. I have now been officially accepted into the USDF L Program, and am proud to call myself an L Candidate. Additionally, I may have some exciting news to share in future editions. We're still laying the foundation so I will keep everyone in suspense for a while longer (wink, wink)…Ok, now back to the showing!
While I was readying myself to show this June (prior to horse injury), I started reviewing how to prepare for a dressage show. From entry forms to supplements, trailer maintenance and hotel reservations, tack cleaning, grooming, bathing, test memorizing, membership renewals – there are countless tasks involved in getting ready. While it's an extensive list, I sat down and focused on the few preparation tips that have made the biggest difference in my many years of dressage riding:
Tip #1: Choose Your Dressage Test Carefully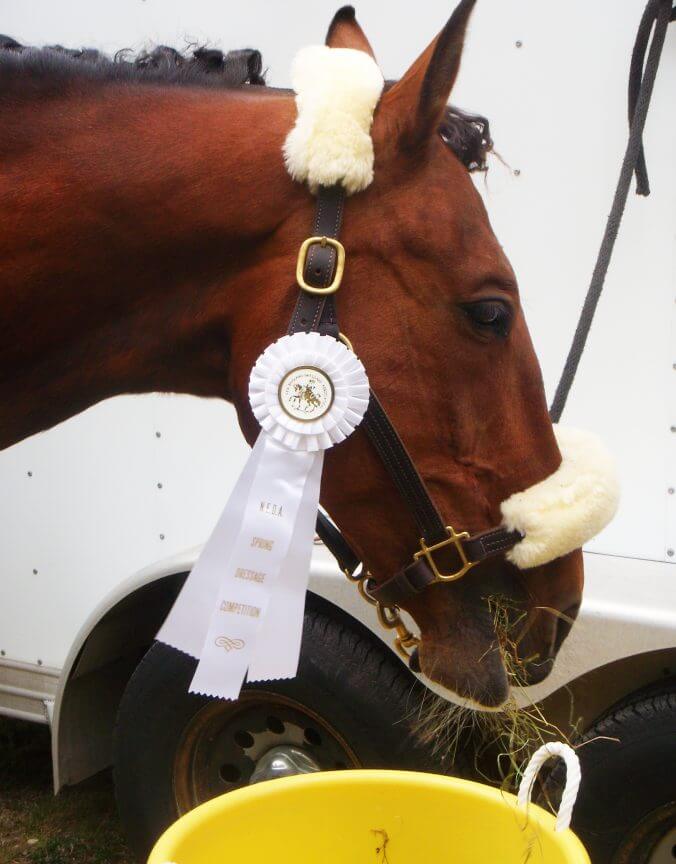 Many riders tend to get fixated on the doing test 1 and 2 of a level because they think it will be easier. Instead of jumping into test 1 and 2, take your time in choosing your test(s). Review the different tests, and know your strengths as a team. For example, my horse's better direction is to the left, so I may choose a test that starts off going to the left. Or – and this is important when you are competing at the lower levels – if your horse favors picking up one lead over another, choose a test that will start your canter work off on your stronger lead. Perhaps your horse really shines at half-pass. If so, choose the test of the level that will best showcase his or her talents. Also, review the coefficients, and see if those movements are a strong suit or a struggle for you as a pair.
Tip #2: Expect the Unexpected
This tip sounds a bit broad, but I think it's especially important in light of one particular experience I had with Calabrae:
Like many horses, Calabrae isn't a big drinker, especially when he is away from home. For a particular dressage competition we did one July, he was on a daily electrolyte, so I didn't think that dehydration was a big concern. We were away from a Friday to a Sunday at a recognized dressage competition when he became seriously dehydrated. The age old saying, "You can lead a horse to water, but you can't make him drink," was certainly true! With the summer weather, the temperatures averaged in the mid-eighties all weekend. By Sunday afternoon, Calabrae was so dehydrated that his manure was almost black! I had packed one tube of paste electrolytes that I had already used for him on Saturday, not thinking that I should be prepared to combat dehydration. That afternoon, I had to send my husband out in desperate search for paste electrolytes. I still had one test left to ride that afternoon; however, I made the decision to scratch the test and take my horse home where I could get him hydrated again. Calabrae would have happily pushed himself through the last test because that's the kind of horse he is. But no competition was worth risking his overall health and wellbeing.
We returned home and got Calabrae on a hydration regimen. Two weeks later, we had another competition that kept us away from Friday through Sunday. This time I was prepared! I brought hay stretcher with me so that I could make him seeping wet mashes, complete with tubes of paste electrolytes and Wellpride omega-3 fish oil for horses. Calabrae also doesn't eat his grain well when away from home, which could potentially make him tired and stressed during a performance. By making him mashes, I could add his grain and Wellpride into the more appetizing meal. Wellpride helped lubricate his gut and kept things moving in the intestines (which is especially important, as I think every horse owner's worst nightmare would be a case of colic while away from home!). The combination of Wellpride, feeding mashes, and paste electrolytes led to a successful weekend and a fully hydrated and healthy Calabrae. Lesson learned: prepare to expect the unexpected.
Tip #3: Have a Goal
Go to the show with a goal in mind. Your goal may be to have fun, gain more experience for you or your horse, qualify for year-end, or gain another score towards your USDF medal. Whatever your goal may be, try to have a clear path outlined in your mind prior to the show. The stress of the show environment may throw you or your horse some curve balls; but if you have a goal in mind, you can stay focused throughout the duration of the competition. At the very least, you will learn more about what may be missing from the equation if you are unable to meet your goal at the end of the weekend. Every experience – good or bad – is an opportunity to learn, and you can apply the lessons to your next competition and/or training regimen.
Tip #4: Ride an Effective Warm-Up
Dressage show warm-ups can be nerve racking to say the least! You're often crammed into a ring with 10 to 20 other riders. Recognized dressage shows run multiple rings at the same time, so it's quite common to find Training Level riders warming up with FEI Level riders. It's easy to get distracted from the actual task of warming up for your test when you have other riders coming at you from all directions.
The best piece of advice I can offer on this particular subject is to know and follow arena rules. If you're riding at a lower level and you're concerned about the horse that is about to half-pass you into oblivion, just follow the arena rules, pick your path, and remember that an upper level horse can stop on a dime (ehem)…
But seriously, having a clear and focused warm-up makes a world of difference for riding an effective test. Chances are if you and your horse leave the warm-up stiff and tense, your test will go a similar way.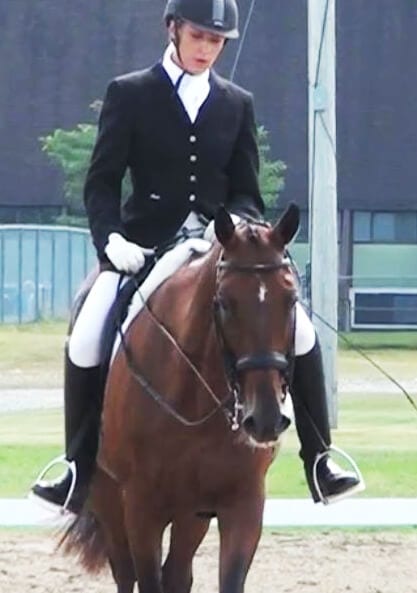 Tip #5: Ride Every Stride Within Your Test
It's very rare to have a completely flawless ride, and when you make mistakes, it's easy to tense up, get discouraged, and shut down as a rider. The age old "from bad to worse" syndrome kicks in, and before long, you feel like you can't do anything right.
However, the thinking rider can overcome this issue. Every movement is scored individually, so don't get fixated on a mistake or a lackluster movement. Mentally, put the mistake behind you and ride your next movement like a champ! For instance, I've had poor transitions before an extension, but my horse LOVES his extensions. I may have gotten a 5 beforehand, but, I'll take an 8 on his strong suits by "going for it". It's possible to make mistakes and still come out with a decent score if you keep riding your test and don't shut down. Remember: just because you've blown a movement doesn't mean you have to blow your whole test.
Tip #6: Review Your Test for any Clerical Mistakes
I once had a test that came back to me with a 3 for a particular movement. I hadn't made any major mistakes, so a 3 didn't really make sense when all the other movements were mostly 6's and 7's. Generally, a 3 means something went pretty wrong within the movement. Upon further examination of the test, I realized that the movement was scored as a scribbled 5, but it had been transcribed in the office as a 3. On this particular test, getting a 3 versus a 5 made the difference between me adding another score towards my Bronze Medal or not, so this was a very important error. I brought the mistake to the show manager's attention, and upon further examination by the judge, she recognized the mistake and corrected the score.
I've never had this happen before or after. But the lesson remains: review your test carefully for human error because, let's face it, we're all human and we make mistakes!
. . . . . . . . . .
I hope my tips will come in handy this season. I'll be keeping all these points fresh in my mind when I get back in the ring myself. For all those competing, good luck with your preparation and your 2013 showing endeavors! Now it's back to the stables for me!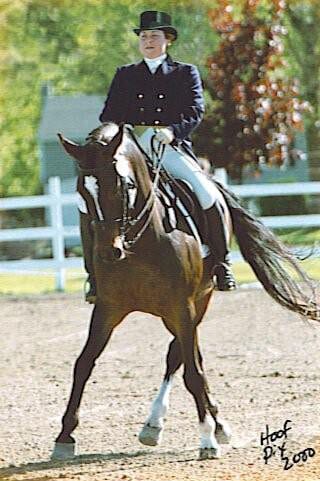 Tips from the Judge
Tip #1: Memorize Your Test and Don't Rely on a Reader
Practice your test at home until you know it inside, out, and backwards. If your horse starts to anticipate the movements, start schooling him after the letter, i.e. halt at G instead of X.
Tip #2: Practice Correct Geometry
This is especially important at the lower levels. We want to see correctly ridden circles and straight centerlines.
Tip #3: Maintain Good Presentation
A well turned out horse shows the judge that you care. Try to braid and have a clean horse, weather permitting. Also, take pride in yourself. You don't need to be fancy, just clean. And don't forget to wear a hairnet!
Tip #4: Warm Up
The warm-up before the test will set you up for success or failure. Make sure you know how long of a warm-up your horse needs to perform at his or her best.
Tip #5: Know Your Ring's Sound
The vast majority of recognized dressage competitions run multiple rings at one time. Each ring is assigned a particular sound, i.e. bell, whistle, or horn. There can be a lot of background noise going on at a show while you are riding, so it's imperative to know which sound applies to the ring you are in. For example, the judge will use the bell to ring you in or to eliminate a participant. How awful would it be to get confused and think the other ring's horn applies to you and stop mid-test? Knowing this information will help keep you focused and prevent panic later on.